The Fernie Trails and Ski Touring Club have finalized the Avalanche Bursary program with awards to Megan Bell and Matthew Szczepanski, pictured below with Ian Stokie, FT&STC President. Stokie commented, "Were happy that our bursary program is going towards people who are interested in avalanche safety and working locally".
Every year $2000 is available to help further avalanche education in the Elk Valley. The program has been in existence for the past decade and bursary applicants need to apply in writing to fernietrails@fernie.com for consideration. Next seasons 2019-20 bursary program will be open for applications on September 1, 2019.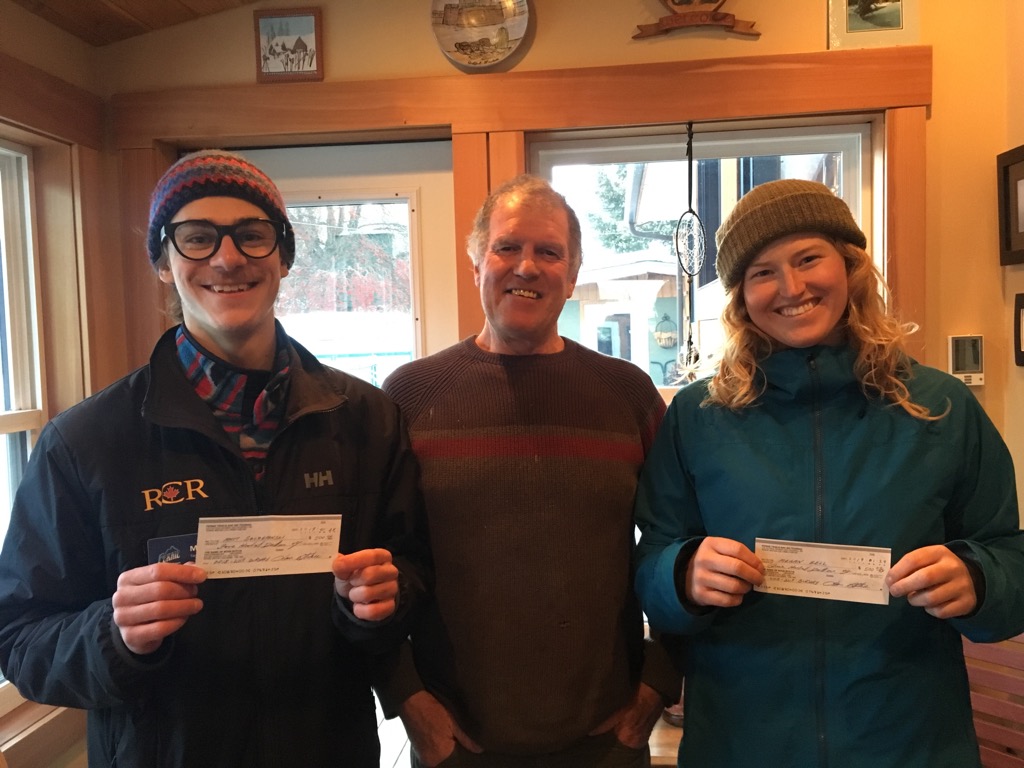 Here are the two applications of the successful applicants:
Megan Bell
I am contacting you in regards to the Avalanche Safety and Awareness Bursary.
This bursary would be put towards the cost of my Avalanche Operations Level 1 course. I
am attending the course in Fernie at the beginning of February.
My passion for the backcountry was ignited two winter seasons ago. I spent the
majority of the winter in Rogers Pass living out of a sprinter van. I ski toured everyday
finding fresh lines and enjoying the beautiful views. Living amongst the mountains
inspired me to gain more knowledge about mountain travel and the potential for
avalanches. This desire brought me to Fernie to take the MAST program. While in the
program, I worked with ACMG Ski Guides which made me realize that this profession
was attainable for myself. This dedicating field only excites me to begin my journey to
reach my goal. This certification is one small step towards ski guiding. The cost of my
Avalanche Operations Course is $2000 plus taxes.
The cheerful community of Fernie welcomed me with open arms. I originally planned to stay for one year but like many other residents, I am still here. I worked on the Elk River raft guiding this summer and I am now working as a ski instructor at the ski hill. This community has been so generous to me and my hope is to give back as much as I have received. I plan to reside here for the following years as I am working through the ACMG process. The drastic mountains we have surrounding us are constant motivation each day.
I'd like to thank this benevolent organization for the opportunity to apply for this
bursary. Thank you for taking the time for reading my application.
Matthew Szczepanski
I am writing you in regards to your bursary program to assist individuals who are
pursuing a career in the avalanche industry. I am enrolled in the Canadian Avalanche
Association Industry Training Program Level 1 this February and am enroute to a career
in ski guiding.
I moved to Fernie in September 2017 intending to participate in the MAST program.
Unfortunately due to an early season injury while ski instructor training, I was unable to
complete the program at that time. At present I am working full-time as a ski instructor at
Fernie Alpine Resort, training for my CSIA Level 3, and making up all of the MAST field
days I missed due to my injury. In my personal time I am working towards gaining more
experience in the Fernie backcountry by ski touring and winter camping.
My goal for this winter season is to set up a solid foundation for my future career as a
ski guide. I intend to achieve this by developing my ski technique to the high standard of
a CSIA Level 3 instructor. In tandem to this, I am working on gaining practical
experience in the winter backcountry with the MAST program, and diving deep into
snow science and the avalanche phenomenon during the CAA ITP1 course.
The FT&STC bursary program would help me cover some of the costs of CAA ITP1 . I
am thrilled to now call Fernie home and intend to give back to the community that is
helping me develop my passion into a career. Thank you for taking the time to read my
letter and considering me for your bursary.
Tags: avalanche bursary, fernie avalanche program, Fernie trails, Fernie Trails and Ski Touring Club, ft&stc