The Fernie Trails and Ski Touring Club (FT&STC) is pleased to announce that we have awarded an Avalanche Bursary to Jeremy Wishart. Jeremy was awarded $750 to help fund his CAA Level 2 Avalanche Operations. On receiving the bursary Jeremy commented, "Please pass on my gratitude to the FTSTC for their generosity in providing this Avalanche Educational Fund."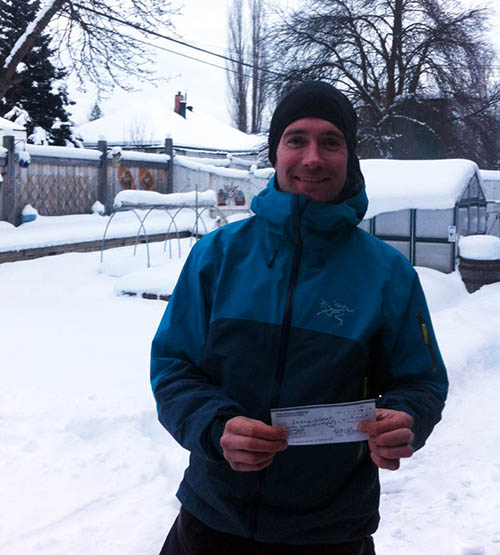 The FT&STC created this Avalanche Bursary program with the goal of promoting avalanche safety and awareness in the Elk Valley and to assist individuals who are pursuing a career in the avalanche industry. Awards of up to $1000 are available to successful applicants for the purpose of introductory Avalanche Safety Training courses(AST) or a Canadian Avalanche Association Industry Training Program Level I or II. Applicants must submit a letter which outlines their experience in the winter back country, their interest in the avalanche phenomenon and their personal or professional goals with respect to avalanche safety.
Jeremy grew up in Tasmania and New Zealand before moving to the Fernie in 2008. Jeremy enjoys the many recreational opportunities Fernie has to offer and greatly appreciates the work of the Fernie Trails and Ski Touring Club in their construction and maintenance of backcountry trails and huts. He has worked as a patroller at both Panorama and Fernie and currently works as a tail guide with a Cat-Skiing operation in the Monashee Mountains. He is interested in promoting avalanche awareness through AST instruction and is currently completing the CAA Level 2 Avalanche Operations.
The Fernie Trails & Ski Touring Club was incorporated in 1993 and its goal is to maintain responsible, non-motorized trail access on Fernie and surrounding area Crown lands and private lands, including steward-ship of Fernie Mountain Park trails. The organization also maintains and manages backcountry cabins for winter touring and hiking.
Tags: Avalanche Bursary Awarded, fernie cabins, fernie ski touring, Fernie trails