The Fernie Trails & Ski Touring Club has awarded Avalanche Bursaries to Jacob Hayden and Jesse Kilpatrick. Every year $2000 is available to help further avalanche education in the Elk Valley. The program has been in existence for the past decade and bursary applicants need to apply in writing to fernietrails@fernie.com for consideration.
Read more here about the bursary program and past recipients here.
Ian Stokie, FGT&STC President, is pictured below presenting cheques to the two recipients.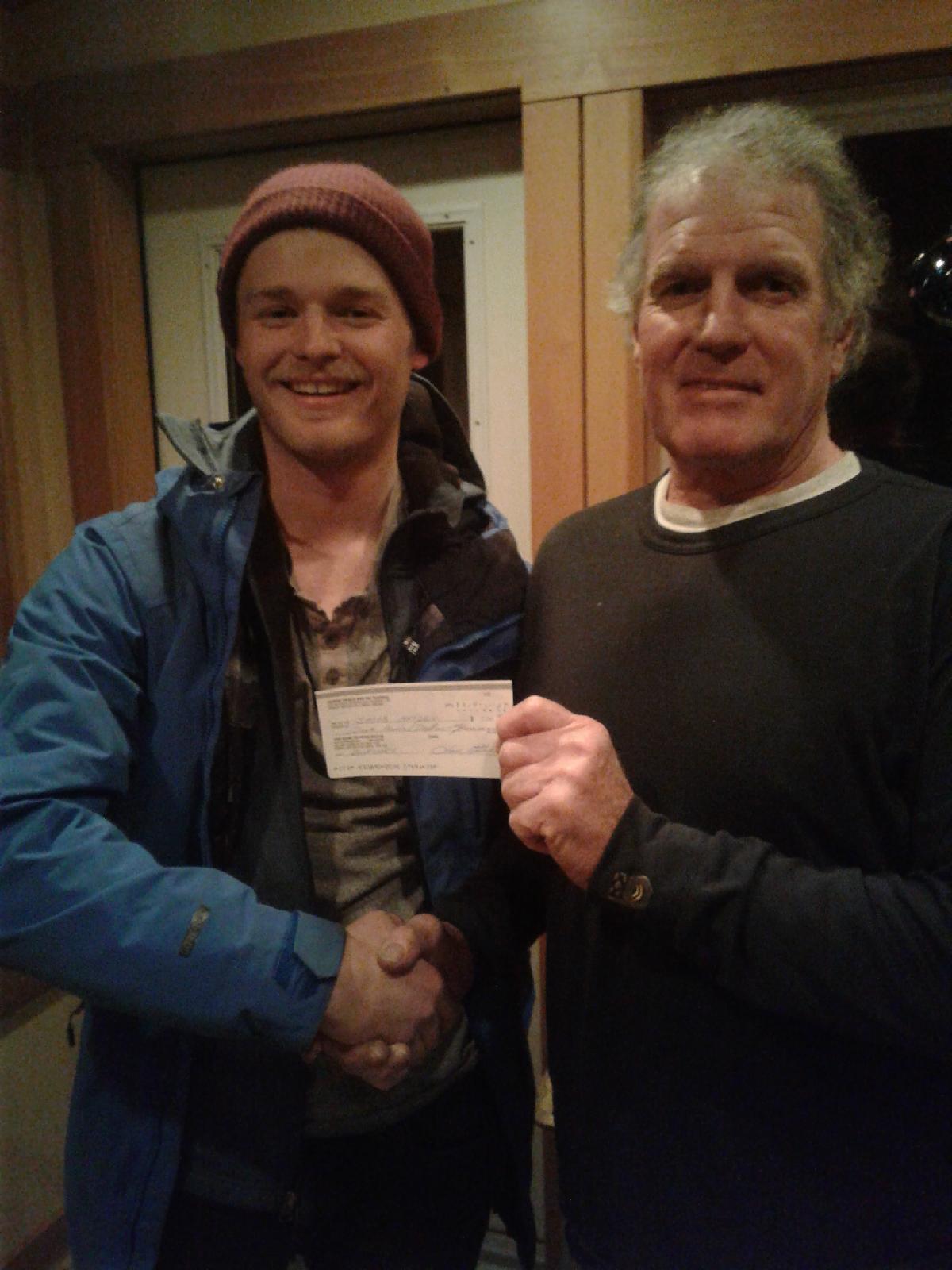 Here is Jacob Hayden's letter of application:
Dear Fernie Trails and Ski Touring Club,
I am writing this letter in regard to the Avalanche education bursary that you provide to individuals looking to work in and develop a career in the avalanche industry. I will be doing CAA Operations Level 1 this upcoming February here in Fernie and could not be more excited for the course.
I moved to Fernie in the Fall of 2017 to attend College of the Rockies and take the MAST program with intentions of one day becoming a ski/splitboard guide. Before taking MAST I wasn't totally sure what I wanted to do with my life or if it was even a viable career path to become a guide. Through taking that program I have become even more passionate about the outdoors and pursuing a career working as a guide in the summer or winter. Since the program I have been living in Fernie spending my summers working at Mountain High Adventures as a rafting guide and worked at the FAR winter sports school instructing snowboarding and working towards getting my Level 2 CASI certification which I successfully completed in January of last winter.
My goal for this upcoming winter season is to spend as much time as possible in the backcountry to expand upon the backcountry travel skills learned during MAST, deepen my knowledge of the weather and how it effects the snowpack and of course explore more of the amazing terrain the Elk Valley has to offer. I am very excited to take a deeper dive into snow science and the weather phenomena that affect the avalanche hazard during CAA Operations Level 1. I will be working at Island Lake Lodge as a cook and hope to get out in the field on my days off with the guides there to observe and learn first hand from them.
Receiving the FT&STC Bursary would be extremely helpful in taking some of the financial load of the Level 1 course. I am extremely happy to be living and working in Fernie and hope that I will be able to give back to the community that has helped me realize that my dreams and passions can one day be my career. Thank you for taking the time to consider me for this bursary.
Sincerely, Jacob E. Hayden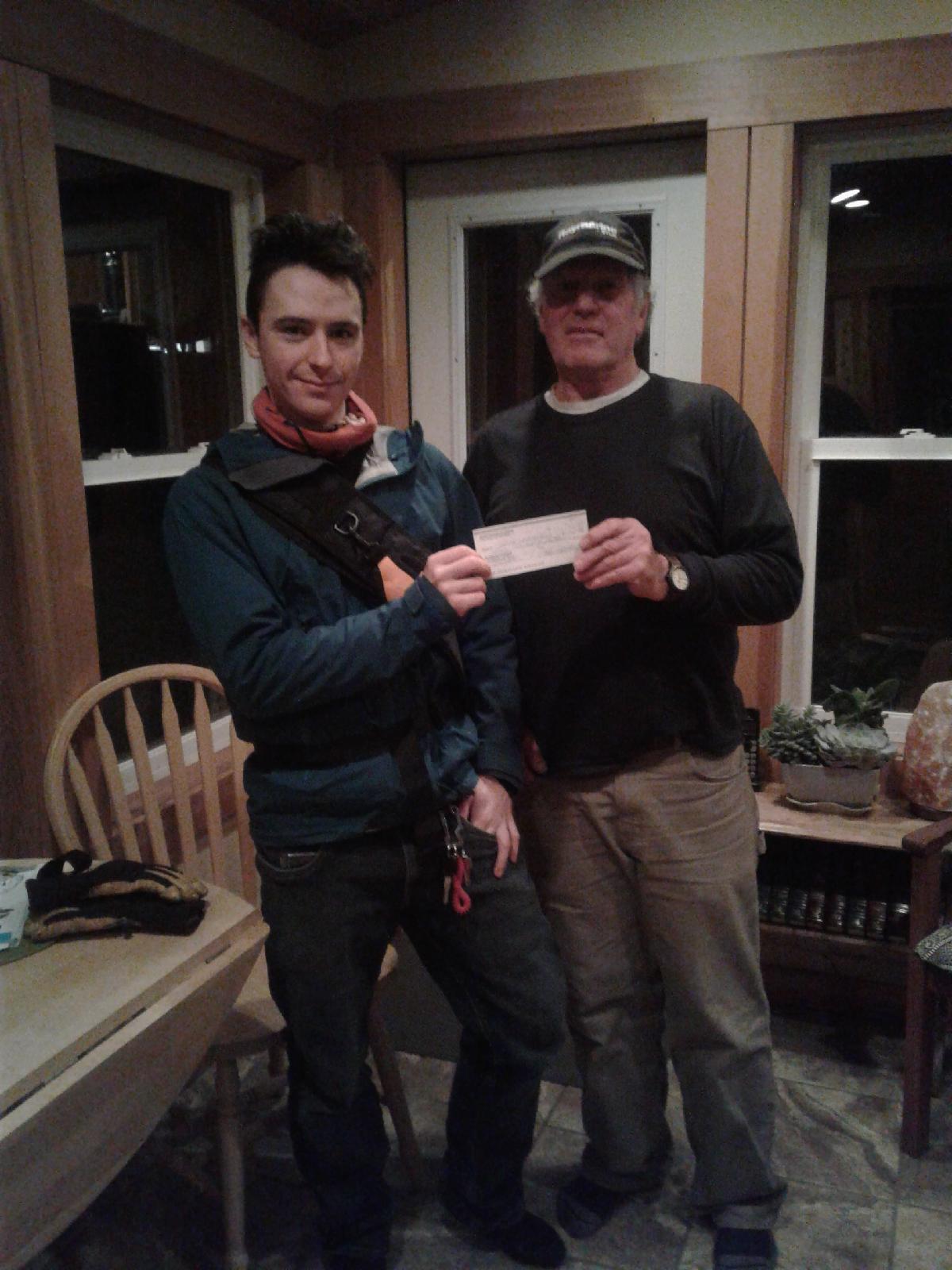 Here is Jesse Kilpatrick's letter of application:
Dear Fernie Trails and Ski Tour Club,
I am composing this letter as my application for your 2019/2020 winter season bursary program
to financially assist those who are pursuing the education for a career in the avalanche industry.
I am currently enrolled in the CAA Avalanche Association Level 1 Industry Training Program this
March and am hoping the following paragraphs convince you of my suitability for financial aid.
For the last five years now I've been pursuing a career in the outdoors. During that time I've
held various positions at a variety of different ski resorts and adventure tourism operations.
During the winter of 2017/2018 I decided to focus on working towards a career as an ACMG
guide and member of the CAA. I moved to Fernie the following autumn, enrolled in and
completed the MAST program at College of the Rockies and am now currently working at Fernie
Alpine Resort for my second season.
Its is my hope to transition into the guiding and avalanche world permanently within the next
year. In addition to my CAA ITP1 I am working toward obtaining my CSIA Level 3 this winter and
hopefully my Apprentice Ski Guide Certification by the next one. All of this depends on me being
able to afford to do the courses and the FT&STC bursary would go a long way in helping me
towards my goals.
For over a year now I've had the privilege to live in Fernie. I've also been fortunate enough to
have travelled quite a bit for my age, but I have yet to find a better town to live and work in. I'd like to secure myself a more permanent form of employment here as it will give me more of an
opportunity to stay in Fernie and give back to the town.
I've felt drawn to the mountains my entire life. Being in the alpine isn't so much just for fun as in a way necessary for me. I've traveled far and wide to visit them and have made it the resolution
of my youth to spend as much time in and around them as possible. This program will help me
stay close to them, help me protect them and those who would spend time in them.
Thank you for your time and consideration.
Sincerely,
Jesse Kilpatrick
Tags: Fernie Avalanche Bursary, fernie ski touring club, fernie trails bursary