Ski Touring
Ski Touring in the Elk Valley has a long and storied history, dating back to the early part of the 20th century, when Fernie was a coal mining mecca. Legendary tales of old timers have progressed of late into more modern myths of endless powder days and snorkel skiing.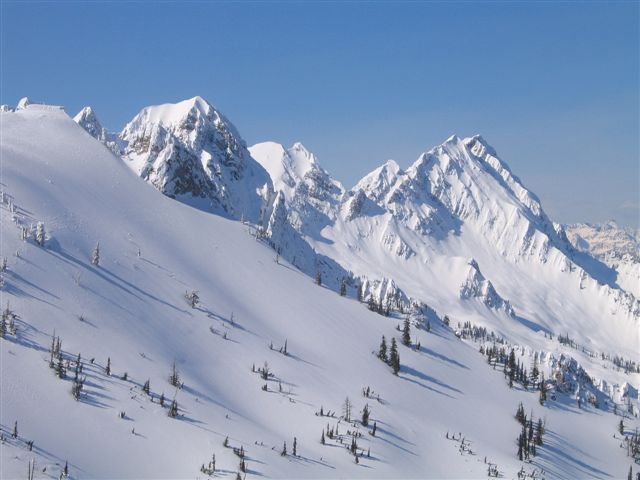 The Fernie Trails & Ski Touring Club in its inception began as a loosely knit group of skiers determined to promote and preserve ski touring in the areas in and around Fernie. Formerly known as the Elk Valley Ski Touring Association, current and former members have been using the ideal touring terrain between Fernie Alpine Resort and Island Lake Resort in the Cedar Valley and Lizard Range since the 1970s. While the group may have begun as merely a keen group of touring enthusiasts, an organized and dynamic body has emerged over the course of three decades.
Today the Fernie Trails & Ski Touring Club works to actively promote ski touring in the area. Ski touring in the area around Fernie is somewhat unique, in that Fernie itself has a set of special conditions that create an often ideal snowpack. Although low in elevation compared to other ranges, Fernie is situated within an area in the Rockies where moist air systems from the Pacific and colder air masses from the Rockies meet, combining to produce great powder snow in high quantities throughout the winter.
Last year alone, Fernie saw over 11 metres of the white stuff land in its stunning alpine bowls.
Touring in Fernie is focused on the area between Fernie Alpine Resort and Island Lake Resort, along the Lizard Range, through a large swath of crown land, as well as the Tunnel Creek area south of Fernie Alpine Resort. In 1993, the Trails & Ski Touring Club (then known as the EVSTA) obtained a Special Use Permit from the province to build a hut in Thunder Meadows, and this acts as a kind of epicenter for touring. In and around Thunder Meadows, touring takes place northward from FAR's present boundary in Fish Bowl, Lizard Lake (Liverwurst Bowl), and Big Steep Mother Bowl. Ski runs named by members include The Treed Slope, Orca Bowl, Big Steep, Cabin Bowl, Thirst Quencher, Goat Pass, and Three Bears.
SAFETY
Safety is essential to ski touring. Without the proper equipment and knowledge, skiers in the backcountry endanger the lives of others as well as their own. Each winter there are numerous stories in the news of backcountry enthusiasts who trek unprepared and cost lives, time, and money as a result. Fernie Trails & Ski Touring Club encourages its members and others enjoying the backcountry to prepare for every eventuality.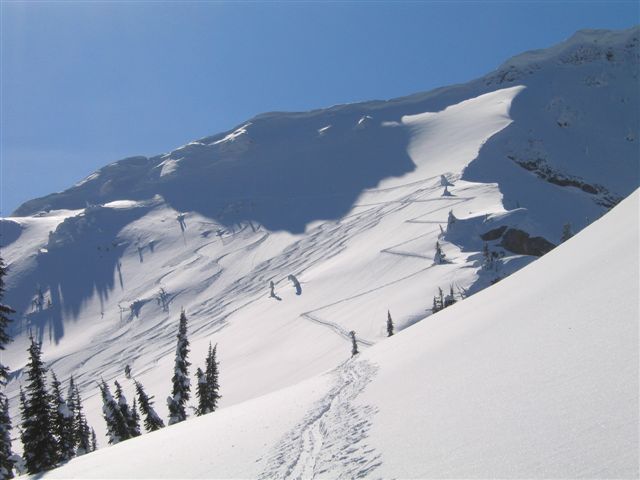 Avalanche training is an essential tool for ski touring; simply put, it is a must. Knowledge is power, and in this case, a lifesaver. Avalanche safety courses are available locally in the Elk Valley through private companies hosting training, and College of the Rockies.
Armed with the right knowledge, ski tourers must also equip themselves properly. The mandatory list includes avalanche transceiver, probe, shovel, proper clothing, and survival kit. Make sure that someone at home base knows where you are going, when you are going, and when to expect you back. And know your terrain, or travel with someone who does.
Finally, checking conditions prior to heading out is also critical to safety. The Canadian Avalanche Association's website, www.avalanche.ca, maintains the most up to date bulletins for regions throughout BC and Alberta, and specifically, the Southern Rockies. Be sure to log on before you head out.