Thunder Meadows Access
Your chosen route will depend on weather and snow conditions; most routes take four hours under good conditions. All suggested routes require good avalanche evaluation and route finding skills. You are completely on your own and responsible for your own safety and rescue.
Thunder Meadows: 49d28'49.3″N 115d 10'28″w at an altitude of 1828 meters
1) Fernie Alpine Ski Area
a) Traverse Cedar Bowl, Fish Bowl and 2000-Foot Ridge. Climb up to Liverwurst Pass. Choice of skiing down to Easy Street and then up to the cabin, or climbing up the ridge to Big Steep Mother and skiing down to the cabin. This route traverses steep avalanche terrain across Fish Bowl and 2000 Foot Ridge. FAR Ski Patrol closes this route under high avalanche conditions.
b) From the top of Polar Peak chair ski to Polar Peak Saddle and pass through the backcountry transceiver gate. From here ski down Polaris Bowl to Easy Street and skin up to the cabin. This route crosses numerous slide-paths and can be a deathtrap in high hazard avalanche conditions. FAR Ski Patrol closes Polar Peak Chair when snow stability is poor.
If the Polar Chair is NOT operational ski touring parties wishing to use the Easy Street Route to Thunder Meadows can call the Fernie Ski Patrol Dispatch @ 250 423 2426 and request permission to transit the Polar Road to the Saddle and exit the Ski Area Boundary to Easy Street. At the discretion of the avalanche forecaster if Avalanche Hazards or other conditions permit you will be granted permission transit the area. This permission is best determined the day prior to the trip date.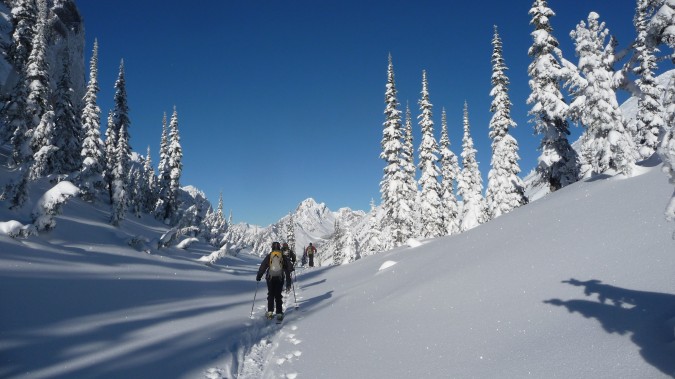 2) Mount Fernie Park
Mount Fernie Park access involves accessing Island Lake's private property. Island Lake has permitted areas and performs avalanche control than could present a hazard, READ THE DETAILS HERE.
a) Ski up Mount Fernie Park road for 5km, climb Cabin Ridge and Cabin Bowl to Cabin Pass. In hardpack conditions Thirstquencher Creek (to the immediate north of Cabin Ridge) may be an easier route than Cabin Ridge.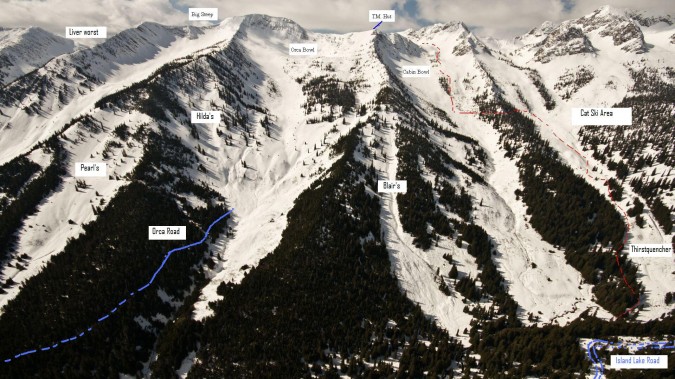 b) Ski up Mount Fernie Park road for 3.5 km to the base of Orca Bowl Trail, climb Orca Bowl and ski down Burnt Slope to the cabin. This route can be very hazardous in higher avalanche conditions.