Curtis Hall was a recipient of the Fernie Trails and Ski Touring Club's annual avalanche training bursary program. He successfully completed his level 1 and is see here with course instructor Tomo Fujimura. Congratulations Curtis!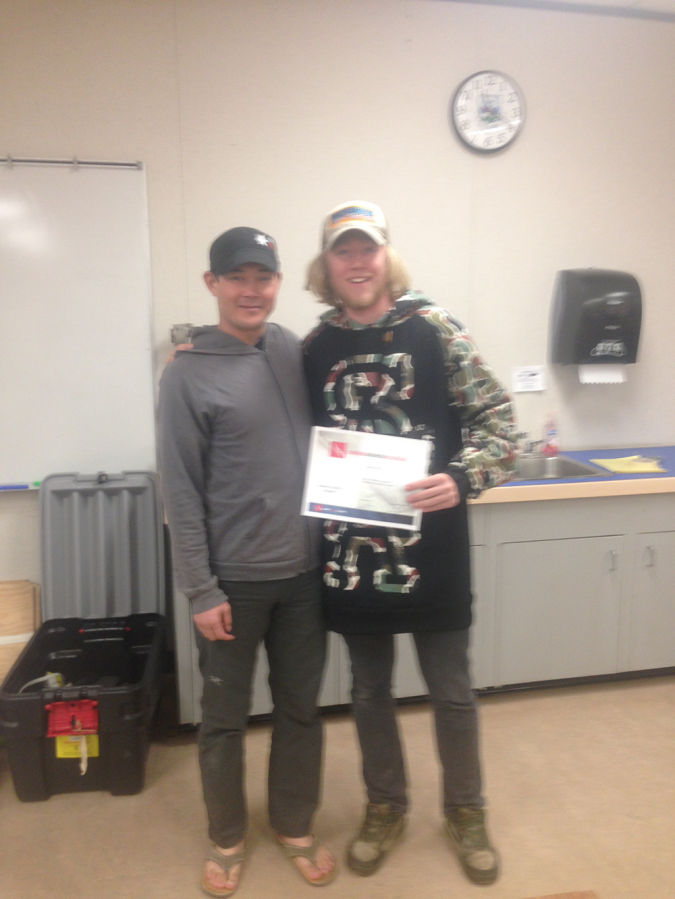 Curtis Hall wrote, "I would like to thank the Fernie Trails and Ski Touring Club for their support in awarding me a bursary to help cover the course cost, to help me successfully pass my Avalanche Operations level 1 this January."
Background:
Curtis Hall was was born and raised at Tie Lake in Jaffray and is currently a student in the Mountain Adventure Skills Training (MAST) program at the College of the Rockies in Fernie. T
Curtis's backcountry avalanche experience includes:
• Attempting the summit of Resplendant with Pat Morrow and ACMG guide Max Derrah in the 2013 Alpine Club of Canada's sponsored celebration of Mt Robson Park's centennial.
• Completed AST 1 and use avalanche safety equipment
• Snowmobiling and ski touring in the South Rockies and Lizard Range forecast regions
• Reading and applying the CAA's daily forecast bulletins
• Avid downhill skiing
• Winter film making
Curtis's interest in the avalanche phenomenon:
One of his primary interests is in the formation of the different snow crystals and layers in the snow pack. This interests him because avalanches can be large, powerful, and destructive, but the way the snow pack behaves is on a microscopic level.
Curtis's long-term career goals are to:
• Become an ACMG Certified Mountain Guide
• Work as a mechanized skiing guide
• Incorporate adventure film making into my winter work
• Work as a ski patroller at Fernie Alpine Resort
• Volunteer with the Fernie Search and Rescue Association
Tags: avalanche bursary