February 12, 7 pm @ Freshies
Introduced Directors
Ian Stokie, Pat Gilmar, Rob Lanthier, Doug Koran, Jack McKay, Fred Frehner, Ben Stokie (Not Present), Dave Mcbeath, Rick Emmerson, Sean Staplin,
Read minutes from last years meeting.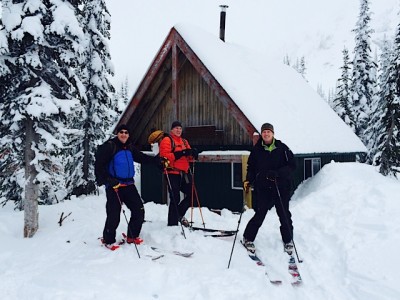 Thunder Meadows
Firewood flown in, new cookstove with 20lb propane tanks, other small upgrades and ongoing maintaince.
Tunnel Creek
New furnace, 100lb propane tanks, new cookstove, 20 lb propane tanks, hut will need reclading due to plastic cladding deteriorating, entry addition is still proposed.
Bursaries
Gave out 3 bursaries with one being returned, We allotted $2000 and still have $350 available.
Website
Working on more content and better access to booking information. updating our membership list,
Summer Trail Activity
Porky blue event was successful, purchased event tents, painted the bus, many boardwalks and bridges built and installed.
Financial Report
Pat to submit copy, motion to accept ,Doug Koran, 2nd, Fred Frehner.
New Business
Motion : to submit operating cost budget (ie; insurance, firewood flights, etc) to board for approval,
– Require 2 signatures on checks (Ian Stokie, Pat Gilmar, Dave McBeath, to have signing authority)
– Any amount over $1000 to be approved by the board Doug Koran, 2nd Jon Turk.
Fred Frehner to step down as a Director. Ben Martin, write2bean@hotmail.com. nominated and elected to replace Fred. All other directors to remain.
Harvey Pass
General support to apply for a Recreation site with a warming hut to the Ministry of Lands & Recreation, some cleanup of the site has already been done. A committee has been formed (The Harvey Pass Committee) with Ryland Nelson as the Chairman.
Committee Members
Ryland Nelson
Ben Ross
Drew Conway
Steve Decosse
Daniel Cutts
Rob Pugsley
Ben Stokie
Todd Westlake
Motion to adjourn, Doug, 2nd Mark.
Tags: FT&STC AGM minutes