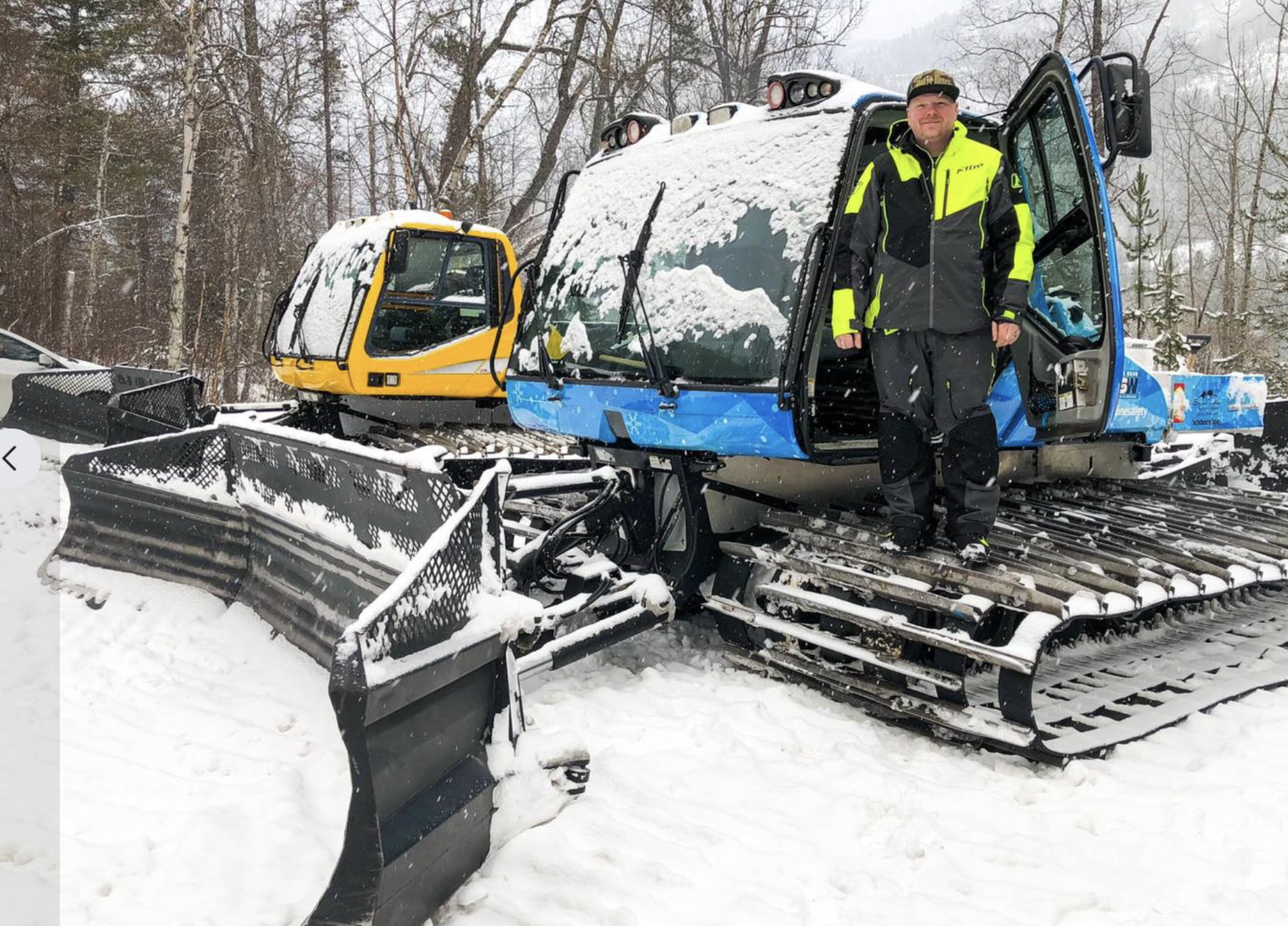 The Fernie Snowmobile Association (FSA) has passed along a few key updates regarding their grooming operations this winter.
Several backcountry users have expressed concerns about the FSA plans to regularly groom Hartley Lake Road this season. Their concerns included:
– The cost of having a FSA membership
– The parking lot being full
– Road hazard with increased traffic and large trailers
– Possible snowmobiling in restricted areas
The FT&STC recognizes that the FSA has been grooming Hartley Lake Road for several years and appreciates that ski tourers have free access. We also recognize that clubs do require fees to operate and grooming the Hartley Lake Road is both expensive and an asset for ski tourers. We continue to work with the FSA, support their grooming initiative, and suggest FT&STC members support the FSA with a membership purchase.
Here is the FSA update:
The Fernie Snowmobile Association maintains over 160km of winter trails under land use partnership agreements with Recreation Sites and Trails BC, the federal government, and private land owners for the Coal Creek, Morrissey, Hartley, Ram, and Corbin backcountry areas. Our organization also provides three day use warming shelters, staging facilities, welcome kiosks, insurance, signage and other infrastructure which support organized winter trail use within the valley. We welcome a variety of users on the trails each season including cross country skiers, fat tire bikers, dog walkers, hikers, snowshoers, ski tourers, sled ski tourers, and of course, snowmobilers.
Under our land use partnership agreements, we are authorized to collect day use fees of $25 per person/day to offset costs of the above services. The FSA currently collects day use fees at our Coal Creek, Morrissey, and Corbin trailhead locations. We do not currently collect day use trail fees at Hartley, Ram or for 'human-powered' modes of uphill locomotion. Trail users may see staff at Hartley or Ram during the winter months collecting trail use data required by the government for partnership engagement surveys (eg trail counts).
We also offer unlimited annual membership options as follows. Please note that annual memberships entitle trail users to discounts on hotels across BC, insurance, avalanche training and more. Details can be found at www.ferniesnowmobile.com.
$200 for a primary membership (single or first person in a household)
$100 secondary memberships (each additional person in a household as a primary)
$50 youth and senior memberships.
As always, the FSA would like to remind and encourage trail users to purchase trail organization memberships for any areas you are utilizing this season. Not only does your membership or day use fee provide essential revenue to keep not-for-profit societies such as ours and the Fernie Mountain Bike Club, The Fernie Nordic Society, the Fernie Trails and Ski Touring Club etc working for you, the user, but also creates diverse revenue streams for our local economy and vibrant outdoor recreation opportunities for visitors and residents alike.
New for this season:
We have permanently relocated one of our snowcats to increase grooming frequency on the Hartley lake trail (Thursday PM's this season).
The FSA is now able to process online day ticket sales via our website and will have visa / debit capabilities at our Coal Creek trailhead kiosk.
Construction is finally complete on our new Wranglers Backcountry Day Use Warming Shelter
Please review our early season update under the 'News' section of our website for information about industrial road closures and grooming start up.
As part of our ongoing safety and compliance efforts with Conservation Officers and the RCMP, we would like to remind all persons operating a snowmobile this winter about the local Access Management Areas and requirements for registration, insurance, working headlight, photo ID on person and approved DOT/ECE/Snell helmet under the BC OHV Act.
AMA Maps detailing seasonal motorized closures and exemptions can be found here: http://www.env.gov.bc.ca/kootenay/eco/access.htm
Information on the ORV Act can be found here: https://www2.gov.bc.ca/gov/content/industry/crown-land-water/crown-land/crown-land-uses/off-road-vehicles
Tags: Fernie Snowmobile Association, FSA Groomed Trails Touring Access, Hartley Lake Road