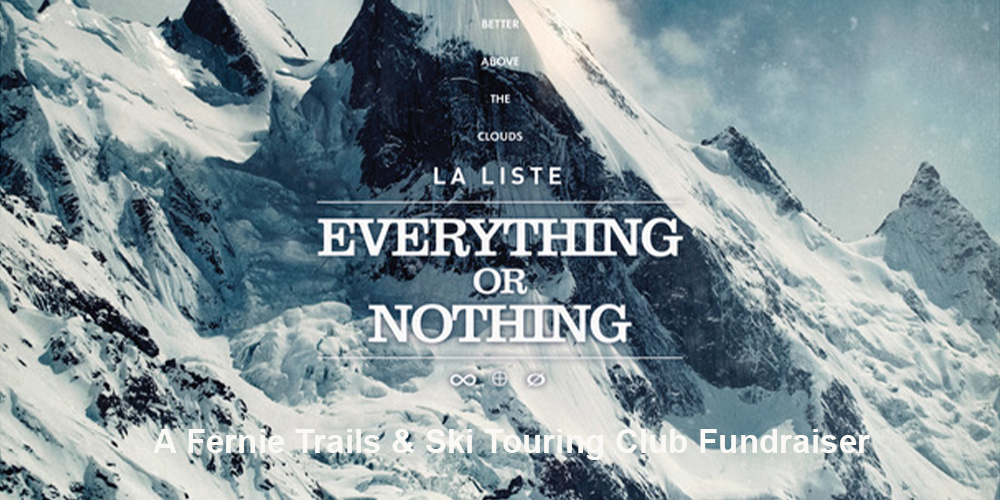 The Fernie Trails and Ski Touring Club (FTSTC) is hosting a film at the Vogue Theatre showing the most extreme backcountry skiing of all time…it's insane! From the award-winning filmmakers Sherpas Cinema their latest film "La Liste: Everything or Nothing" is a must see!
Big mountain skiers, and close friends, Jérémie Heitz and Sam Anthamatten are adrenaline-junkies who find beauty and display grace in the dangerous world of free-skiing. Follow them as they set off around the world to find the most awe-dropping, high-altitude peaks and mountain ranges that exceed 6000 metres, and do what they do best: ski.
The showing is a fundraiser for the rebuild of the Tunnel Creek Hut bunkhouse and the completion of the exterior. The rebuild will maintain the same footprint and occupancy however improve the experience and comfort. Tunnel Creek offers some of the best terrain in the Lizard Range. The FTSTC also operate Thunder Meadows, Harvey Pass and Montane huts.
The event will require proof of vaccination and supporting ID.
Thursday, December 16 @ 9pm
At The Vogue Theatre
Doors open at 8:40pm, please show up early. The concession will be licensed.

Tags: Fernie Premier, Fernie Premier La Liste, fernie ski film, Fernie Trails and Ski Touring Club, La Liste: Everything or Nothing, tunnel creek hut fundraiser, vogue theatre