The Fernie Trails and Ski Touring Club is officially on Fernie's Ski Wall of Fame! The Fernie Skiing Heritage society awarded the founders at the Class of 2014 Induction.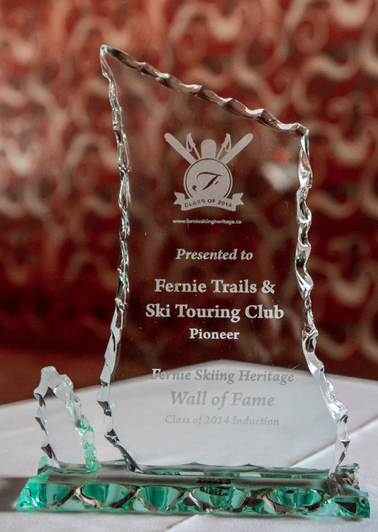 Here is the citation from the gala event:
The growth and success of a mountain living community is the many ski experiences that are to be found. In Norway and in the Alps, ski touring to mountain huts proceeded mechanized ski lifts by a 100 years. The construction of the first mountain huts in Fernie started in 1970's with the construction of the Thunder Meadows Cabin in the majestic Thunder Meadows Valley in the Lizard Range of the Canadian Rockies. ( as a geographic reference, one can see Thunder Meadows from the top of Polar Peak, looking to the North west). Built by members of the Society, then expanded, the Cabin is used in the winter and summer months by local mountain enthusiasts or by travellers from around the world. Incidentally, the hike is from the Island Lake Road through Cabin Bowl then down to Thunder Meadows, should be added to your summer bucket list.
In the 1980's another cabin was constructed in the Sand Creek drainage called "Sand Creek Hotel". Located in north west drainage of Sand Creek near the Powder Cowboy ski tenure, the Cabin is now rarely used.
In 2011, the Tunnel Creek Cabin was built south along the Lizard Range adding to the ski experience. The Elk Valley Ski Touring Society was the Pioneer of the back country ski experience in the southern Rockies. Many of the key builders were Ian Stokie, Pat Gilmar, Bob Morris, Jack Mackay, Bob Mitchell, Rick Schroeder, Robin Siggers, Rod Pendlebury, Glen Heppner, Blair Craig, Tom Amundsen and others and their wifes or girlfriends of course. Several of these fellows have a legacy at the Alpine Resort, (smile) for instance Concussion is named for the concussion to head to Ian Stokie. ( Now Ian, have you started wearing your helmet? Does not wear a helmet) For those that remember hiking up lower saddle into Currie Bowl in the 1990's, then skiing down the pristine terrain, the trail at the bottom of the ski run was hand cut Pat Gilmar, hence, the name Gilmar's Trail and lastly, a strong ski mountaineer and adventure enthusiast with a Norwegian Heritage, Tom Amundsen, had Tom's Run named after him and Mitchey's Chutes named after Mitchey, Bob Mitchell, who once paddled his kyak down the ski slopes.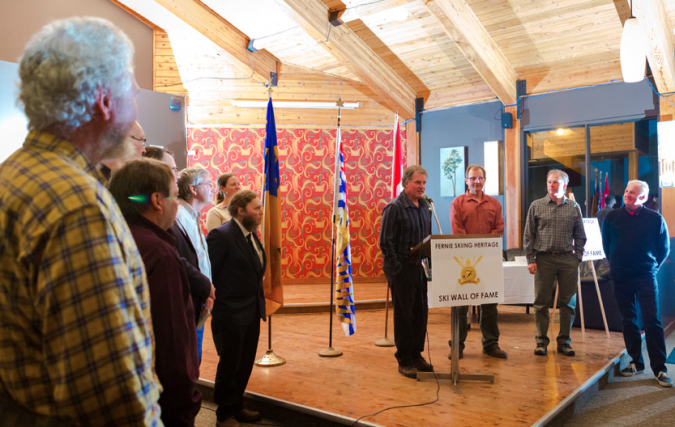 Ian Stoke, Pat Gilmar, Rick Schroeder, Blair Craig, Robin Siggers, Dr. Dave McBeath and Bob Morris accepted recognition of behalf of the Fernie Trails and Ski Touring Club.