Gord and I were in the Barnes Lake area today which is near Corbin. Its was a beautiful day with mainly light winds from the west, with some moderate winds and snow transport at ridge top later in the afternoon.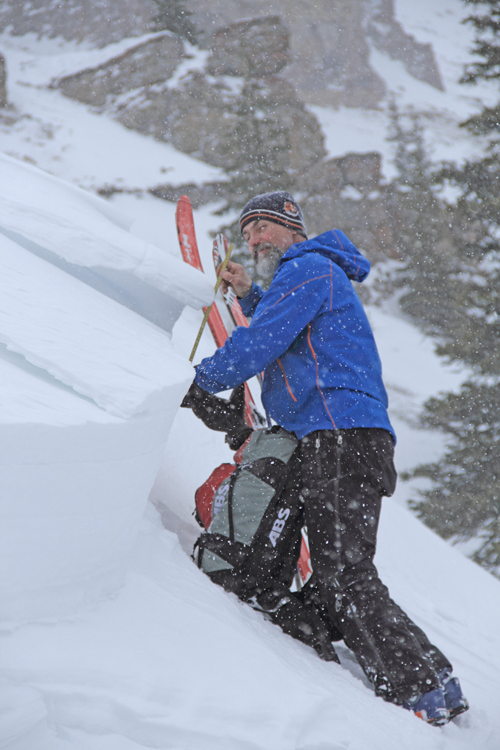 We saw numerous natural  avalanches today to size 2.5 (i.e. large enough to bury injure or kill a person) on E and NE aspects below ridges in steep terrain; a few were less than 24 hours old. This is the result of westerly winds loading these slopes with recent storm snow.  These avalanches support the High avalanche danger in the region yesterday (i.e. natural avalanche activity was likely)The avalanches slid on a surface hoar (SH) layer that was buried in early February.
We stopped at 1950 m on a ridge which runs East West to do some snow stability assessment. There has been 8 cm in the last 24 hours (HN24) which brought the height of storm snow (HST) to 40 cm. Height of snow (HS) in the area is 240 cm.  We found the SH layer at the bottom of the HST – it was well preserved to size 20 (i.e. the SH crystals were 20 mm in size). The slab above was 1F to F, softer on a N aspects and a little harder on a SE aspect.  We performed a couple of extended column tests (ECT), two on a SE aspect and one on a N aspect.
20 degrees, SE asp., 1950 m, HS 240,
ECTP04 on SH sz 20, 2of2 results,
link to youtube video: http://youtu.be/ZAzdIQkkgL4
12 degrees, N asp., 1950 m, HS 240,
ECTP12 on SH sz 20, 1of1 result,
link to youtube video: http://youtu.be/pAC0mK4rQOk
This reactive SH layer is just getting started; as we get more snow it's only going to get more active. Also, don't forget about the large avalanches which occurred a couple weeks ago failing just above the ground in weak basal faceted snow crystals. A small slide on the SH layer could act as a trigger for a monster of a slide on the deeper instability.  Please observe the Special Public Avalanche Warning which is currently in effect – the weak layers in the snow pack will become more dangerous with increased load from continued snowfall on Friday.
Play safe!
Dave and Gord
CAC South Rockies Field Technicians
Gord Ohm
Avalanche Technician
South Rockies
250-423-8984