Biking
Recent Articles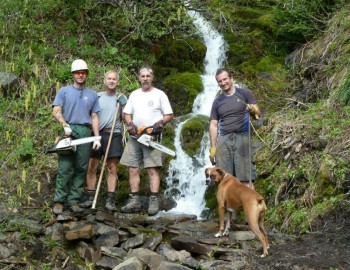 The Fernie Trail Crew has been out the past few weeks preparing Porky Blue Trail for the TransRockies Race on August 9th. The trail is brushed out and soon to be ready for cycling. Porky Blue is designed for cross country riders (moderate difficulty) and boasts 10 kilometers of single-track that drops 1000 vertical meters down to the Coal Discovery Trail from Coal Creek Summit.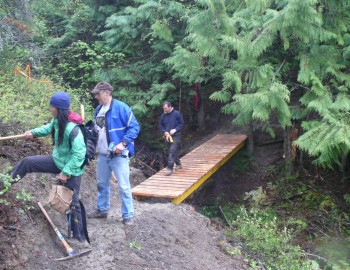 Three additional bridges along the new section of the Coal Discovery Trail.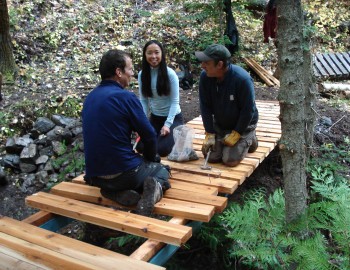 The Fernie Trails Crew has been busy clearing out the Coal Discovery Trail the past two weeks. This weekend we used Bighorn Helicopters to sling in 5 loads of bridge beams and decking and built two of three bridges going in on 2 kilometers of new single-track. The cross-country single-track now goes northward nine kilometers towards Hosmer. Can return on Ridgemont Road or on the Hosmer Powerline 4 X 4 road.
This section of trail will be used by over 500 cyclists during the TransRockies stage race in August.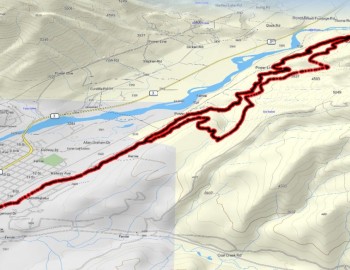 This week we cleared the deadfall with hand saws along the Coal Discovery Trail towards Hosmer. We then rode back to Fernie on Ridgemont Road and descended on R Trail and Oh Dear. Very nice 20 kilometer cross country ride. Should take less than 2 hours.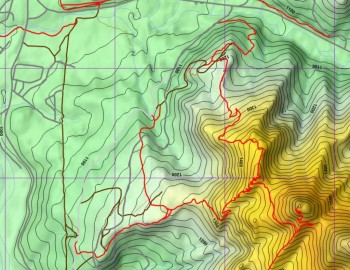 A couple of us chain sawed the deadfall and bush on Hyper Extension on Friday. The descent is riding exceptional well now after cutting out several of the handle bar grabbers and smoothing out some of the dips. Only a couple spots have small patches of snow on the trail. This trail is accessed by riding up Roots and Hyper Ventilation.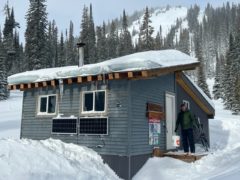 The Fernie Trails & Ski Touring Club is holding its Annual General Meeting at 7PM on Tuesday, March 14 2023 at the Fernie Seniors Centre (562 3 Ave, Fernie). Members and non-members are welcome to attend. 2022 will be reviewed and direction moving forward with respect to the cabins, new projects, summer plans, work parties, […]