Bookings & Procedures
MEMBERSHIP
Fernie Trails and Ski Touring membership is required to book the cabin and at least one member must be present in each user group. Memberships are open to the general public for a fee of $25. Memberships are available here.
WHAT TO EXPECT
These are rustic backcountry cabins with no regular custodian. Cleaning is dependant on the previous guests. You should expect the odd mouse or pack rack and the occasional irresponsible guests. Please report any misuse of our facilities to fernietrails@fernie.com
BOOKINGS
Bookings can be made at the Guides Hut (671-2nd Ave, Downtown Fernie, 250 423 3650).
Bookings are not confirmed until paid for.
DAY USE
Thunder Meadows remains open for day use for people passing through. Day use is defined as stopping in to get warm or to have lunch. It does not include cooking or support camping outside the cabin. Donations for day use can be made here.
CANCELLATIONS
Cancellations are exclusively available as a result of HIGH Avalanche Hazard. A credit towards a future booking will be extended if access is restricted.
Please do not contact us requesting a credit for other reasons. The hut service is inexpensive and all monies go towards maintaining our huts.
TIMING
The cabin is closed during May and June for wildlife protection, to comply with a Ministry of Environment regulation.
PRICING
Cabin Fees are $100 per night for entire hut (maximum 10 people). Summer rates are $50 for the entire hut (July to October). There also is a $10 booking fee to cover administration, payment processing and taxes.
SUPPLIED
Thunder Meadows hut is equipped with the following:
– Bunk beds and 8 foamies.
– Wood stove and wood supply. Bring fire starting paper. Please try to conserve as wood is flown in at great cost.
– Solar powered lights.
– Meltwater pot and greywater pot.
– Propane camp stove with propane.
– Cooking pots, plates, cups, cutlers and coffee maker.
– Outdoor toilet located 30m behind the hut. Bring toilet paper.
– Axe, shovel and fire extinguisher.
POLICY
We have a few items to help you and others enjoy the cabin, please read and respect.
1. The firewood and propane is flown in by helicopter each autumn at great expense, please conserve. Keep the stove door closed when burning wood, the glass can be cleaned with a rag and water. Please melt snow on the wood stove rather than using the propane. Summer users please collect dead wood in the forest, please do not use the expensive larch from inside the cabin.
2. Please use the outhouse (located behind the cabin) for everything, including urinating. Bacteria from urine works it way up through the snow-pack towards light creating a health hazard. You know where you urinate however the next group does not and could become ill from your bacteria. This is the reason why dogs are not allowed at Thunder Meadows.
3. Please power the lights on and off from the fixture and turn off when touring and on your departure. Our solar panel system can be compromised with prolonged snow cycles, please conserve.
4. Please pack out everything that you bring including all tins, glass and food.
5. Ensure that the door and windows are closed and latched when leaving.
6. Properly clean the cabin for the next guests, we have no custodian to clean after you. Unfortunately the cabin may be left uncleaned—please be prepared to clean it.
7. Dogs are NOT permitted at Thunder Meadows Hut in the winter, as they put guests in danger due to contaminated snow which is used for water consumption.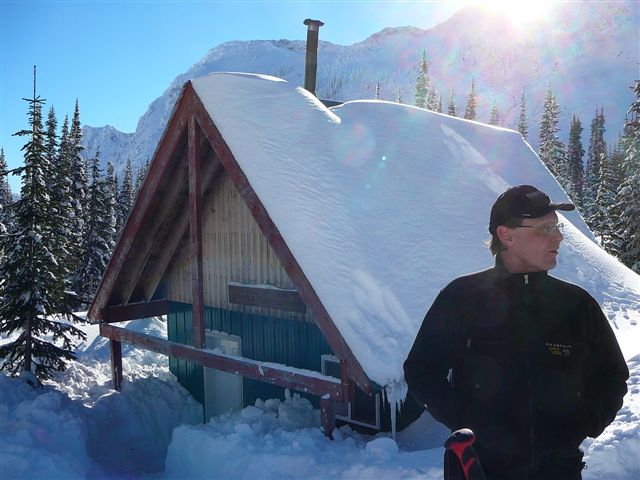 CABIN SUMMER ADVISORY
The access trail is unsigned, rough, steep, slippery and in places non-existent—give your group adequate time and use at your own risk.
The cabin is very rustic and remote, and there is no custodian.
The club repairs and cleans the cabin at least twice per year however it is the responsibility of the users to clean the cabin following a booking.
Unfortunately the cabin may be left uncleaned—be prepared to clean it.
Occasionally functions of the cabin are broken—stoves, windows, the door, etc. Please report any repair issues.
The outhouse has been constructed for access with a winter snowpack and has no stairs.
The cabin is home to flies and mice, and bears, goats, and other animals frequent the area.
Please enjoy your stay.