Recent Articles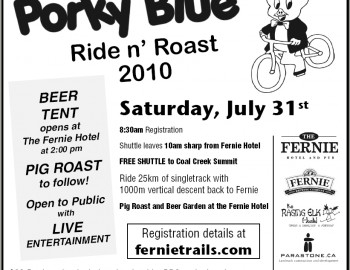 Do not forget to come out and ride Porky Blue next Saturday. Just show up at the Fernie Hotel between 8:30 and 9:30 am to sign up for the 10 am shuttle up to Coal Creek Pass. So far we have over 50 riders so we had another 50 T-Shirts made for late registration. If you have a friend that does not cycle bring them along to help with the shuttle and join the BBQ and Beer Garden at the Fernie Hotel after the ride.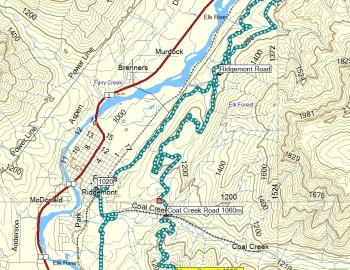 Rode the route for the TransRockies Day One Stage Race yesterday. The 31.4 km route of mostly Fernie single-track involved 1077 meters of climbing and took me 3 hours, 40 minutes at a tourist pace. I guess the top racers will be about 2 hours to complete this race.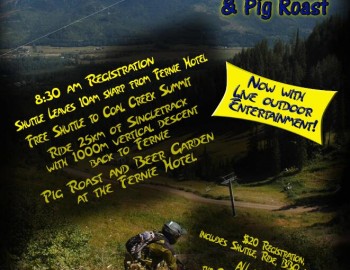 You can pre-register at the Fernie Hotel for this 25 km mountain bike ride on Saturday, July 31. The first 50 to register will get a Porky Blue T-shirt when they sign the waiver on Saturday morning.
This cross-country mountain bike ride is mostly blue and single diamond (difficulty rating) and goes to the same elevation as Polar Peak (2135m) as it crosses Fernie Ridge and descends 1000 meters down to the Coal Discovery Trail. Excellent alpine meadows and mountain views on this moderate ride of about 4 hours.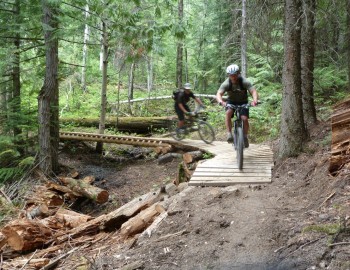 Seven of us shuttled 19 km to the top of Coal Creek Summit on Saturday. Road the 26 kilometers back to town at a leisure pace and took several breaks. Total time was 4 hours and had a good time.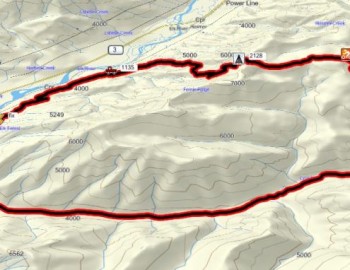 Map for the July 31st Porky Blue Ride and BBQ.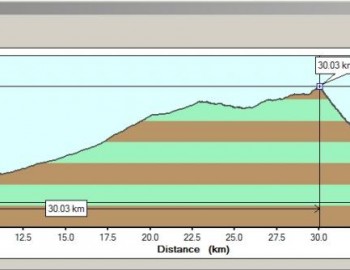 Rode the Fernie 45 kilometer ride today. Up to Coal Creek Summit and Marten Ridge Road(19km, 700m vertical), along US Steel double-track (8km, 300m vertical), single-track to Fernie Ridge (3km, 200m vertical), down Porky Blue (6km, 1000m descent) and then on the Coal Discovery Trail back to Fernie (9km, 200m vertical). Total ride of 45 km and 1400 meters of climbing took 5 hours at a moderate pace.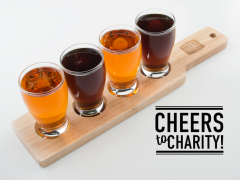 The Harvey Hut rebuild project has been chosen to participate in Fernie Brewing's "Cheers to Charity!" donation program. Harvey Hut burnt last September in BC's worst fire season ever. Over $20,000 in supplies and thousands of volunteer hours were lost in the fire. From Friday February 16th until Saturday March 15th, all "Cheers to Charity!" […]